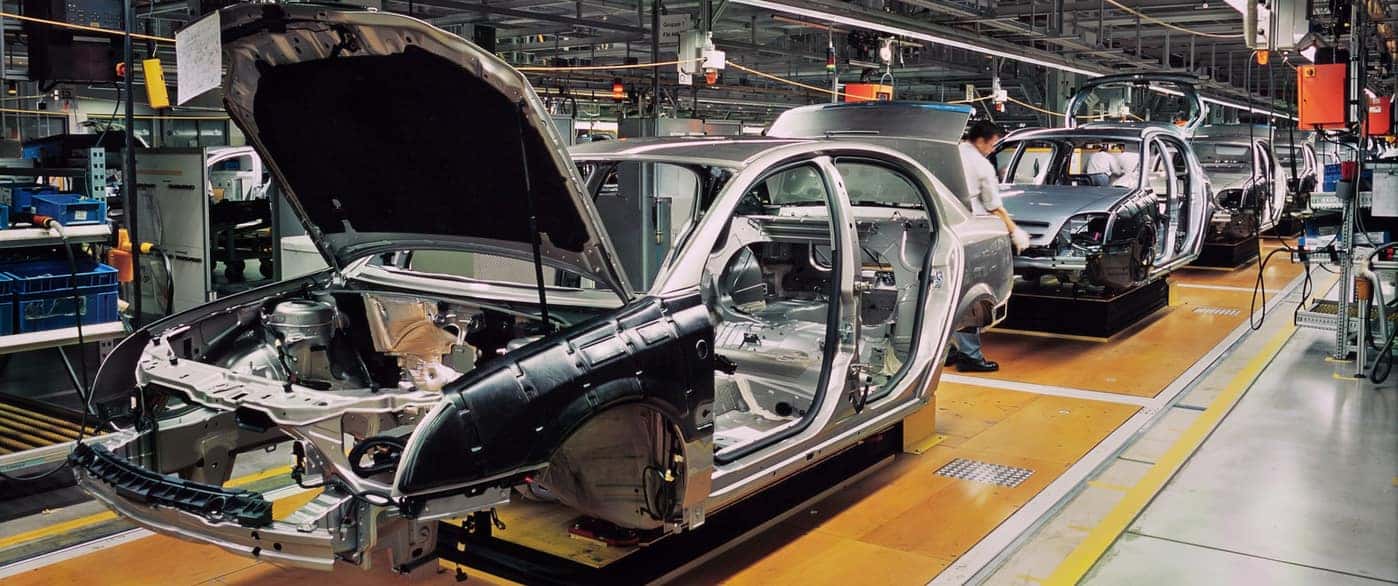 Take a look when you're driving around Colts Neck, and it's likely you'll spot a new Lexus on almost every corner. But, who owns Lexus, and where are these cars made? The answers may surprise you. Although many Holmdel drivers would guess that Lexus is made in Japan, the answer is technically a bit more complicated.
You'll find that Lexus vehicles are produced in Japan, Canada, and even the United States! Today, the experts from Ray Catena Lexus of Monmouth will take you on a look at the long, international journey of a new Lexus in the making. We'll help you answer, "Who makes Lexus?" and explore the rich history of this luxury brand.
Where Are Lexus Cars Made?
So, where is Lexus made? Lexus has seven different manufacturing plants in Japan, Canada, and the United States to keep up with consumer demand for these iconic vehicles. Drivers from Toms River and beyond that want a Lexus vehicle will likely find that it was produced in one of these incredibly advanced manufacturing plants.
From the sporty new Lexus IS to the legendary new Lexus LX, you'll have no problem finding the perfect vehicle that's been engineered with quality in mind at each Toyota and Lexus manufacturing plant. Each plant has its own specialization within the new vehicle lineup:
Toyota Tahara Plant (Tahara, Japan): Lexus LS, IS, GX, LX, & RC
Toyota Yoshiwara Plant (Toyota, Aichi, Japan): Lexus LX
Toyota Motor Kyushu (Miyawaka, Fukuoka, Japan): Lexus UX
Toyota Miyata Plant (Miyawaka, Fukuoka, Japan): Lexus IS & ES
Toyota Motomachi Plant (Toyota, Aichi, Japan): Lexus LC
Toyota Motor Manufacturing Canada, Inc. (Cambridge, Ontario, Canada): Lexus NX, NX Hybrid, RX, & RX Hybrid
Toyota Motor Manufacturing Kentucky, Inc. (Georgetown, Kentucky, United States): Lexus ES
Lexus Parent Company
With Lexus being such a popular option, who owns Lexus? It may be a surprise to some, but Lexus is actually a part of the Toyota Motor Corporation. Although Toyota does own Lexus, the two brands maintain their own unique points of view with distinctive specialties. For example, Toyota is based in the city of Toyota, while the Lexus headquarters is located in Nagoya.
Although Japanese drivers make up the largest segment of Lexus customers, you'll find Lexus in over 70 different countries and territories with operational centers from Belgium to Texas! Now that we know who makes Lexus, let's take a closer look at some accomplishments of Lexus since its inception:
1983: Project F1 (Flagship One) was set into motion by Toyota to develop a world-class luxury vehicle that'll outcompete rivals.
1989: Lexus was launched and introduced by Toyota as the new luxury brand with a heavy focus on quality and craftsmanship. The launch was set forth by the debut of the Lexus LS 400 at the North American International Auto Show featuring a silky smooth 4.0L V8 engine.
2018: With the Lexus LS having such a vital role in the Lexus lineup, it was only natural to introduce the new twin-turbo V6 engine in the updated Lexus LS.
2019: Although the company went through an international recession and other major events, Lexus managed to sell its ten-millionth model thanks to high demand and popularity.
2022: The Lexus IS is back with a powerful 5.0L V8 engine. The last time this luxury sports sedan had a V8 was back in 2014. Lexus also debuts the Lexus Interface system in the 2022 Lexus NX to showcase its next generation of infotainment systems.
2023: In 2023, we will see a full introduction of the first-ever Lexus RZ. The Lexus RZ is expected to take the company into full motion and show the world the level of performance a full electric Lexus vehicle can offer.
Experience Lexus in Oakhurst Today!
With, "Who owns Lexus?" and "Where is Lexus made?" already answered, are you ready to experience the brand up close and personal on Oakhurst adventures? Many drivers believe that Lexus produces the very best luxury vehicles around, so stop by Ray Catena Lexus of Monmouth to see for yourself! Our team can help you find just the right model for your wants and needs, whether you prefer a sporty coupe or a spacious SUV. Contact us to set up a test drive!